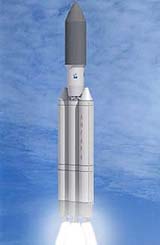 Russia and Kazakhstan have signed founding documents for a joint space venture, Russian space officials said Tuesday. Alexander Medvedev, head of the Khrunichev State Space Research and Production Center, and Maksudbek Rakhanov, chairman of the Kazakh Finance Ministry's State Property and Privatization Committee, signed the founding documents for the Baiterek joint venture, Khrunichev said in a news release.

Each nation retains a 50 percent share in the venture with a charter capital of $400,000, the Kazinform news agency said.

Khrunichev will build a new rocket-launch complex for Angara boosters - Russian heavy launch vehicles - at Kazakhstan's Baikonur cosmodrome, the center said. Baiterek's infrastructure will be based on existing launch sites for heavy boosters.

The center will be named Baiterek and planned for completion by the en d of 2008, Russian media reported earlier.

Kazakhstan's share of the project will total between $120 million and $150 million, the Interfax-Kazakhstan news agency said.

International Launch Services, a joint venture of U.S. Lockheed Martin and Khrunichev, will market Baiterek's services, Khrunichev said.

The Baikonur cosmodrome - 330 miles southwest of the Kazakh capital of Astana - is now leased from Kazakhstan by the Russian government.

Russia And Kazakhstan To Build Commercial Rocket

Moscow (AFP) Apr 06, 2005 - Russia and Kazakhstan have also agreed a joint venture to build a commercial space rocket in Kazakhstan that should be operational by 2008, a Russian space agency official said here on Wednesday.

The rocket will be built at Russia's Baikonur space base in Kazakhstan.

"We have established a joint venture to develop a new rocket, Baitarek, based on the Russian (military) rocket Angara," said General Anatoly Perminov of the Russian space agency Roskosmos.

He said the project would be financed by Kazakhstan.

"It will be used solely for civilian purposes," Viatcheslav Davidenko, a Roskosmos spokesman, told AFP.

"Russia will develop the two projects, Baitarek and Angara, simultaneously," he added.

The Baiterek project will cost up to 200 million dollars, another Roskosmos employee said on condition of anonymity.

The Angara project will mainly be used to put Russian military satellites in space and should replace the powerful rocket currently used, the Proton.

It is scheduled for completion in 2008 at the Plessetsk space station in Russia's northwest.

Unlike the Proton, which uses a toxic fuel, both Baitarek and Angara will be powered by a cleaner fuel mixture of liquid oxygen and kerosene.